Upcoming Events
WELCOME TO SECRETS EVENTS
Secrets Hideaway™ is open 7 days a week with something different each night, relax under the stars, dance the night away in our club or take a stroll down the rabbit hole in our ultra-swanky dungeon. Never been before and feeling nervous? We have you covered, when you check into the front lobby, just let our front desk specialist know you are new, they will be sure to grab a host couple or staff member to give you a Secrets tour and answer any questions that you may have. There is something for everyone for a night of naughty fun. To book your room give our reservation line a call 1-844-563-6969 and one of our specialists will be happy to assist or click on any of the flyers on the left and then click make a reservation.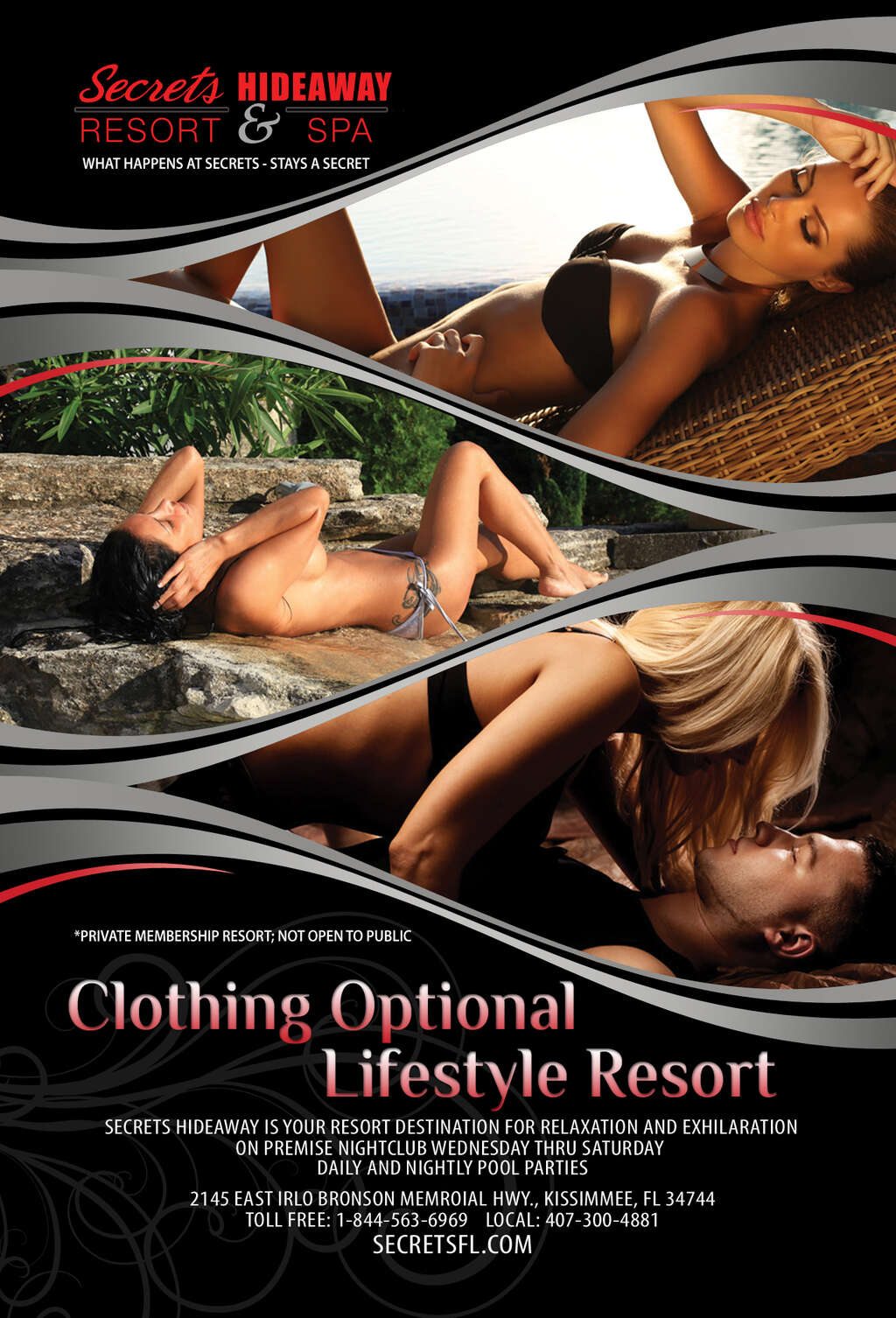 It's all about our couples Pleasures, Delights & Fantasy. All your desires are within reach at Secrets Events Orlando Florida's lifestyle parties and swingers club. The Secrets Events are for Couples that want a safe & sexy environment to explore the erotic side of their relationship. We are committed to providing quality events specifically produced with an emphasis on eroticism, sexuality, hedonistic pleasure and fun. Our no-pressure atmosphere is perfect for beginner couples as well as those who have made the "Lifestyle" an integral part of their relationship and enjoy swinger club parties.
Most of our parties are very casual with very few rules. Our parties are specifically geared towards committed couples and single ladies. The sexually charged atmosphere of our club and theme party action is perfect for getting to know other couples on a more intimate level.
Our Resort: In addition, we have our newly renovated themed condos on site, so that you do not have to drive after a night of partying and can take the fun back to your room after hours. Our resort is directly behind the club, so it is also easy access for the ladies who are dressing up into sexy theme night outfits. We have just undergone a massive renovation and with all the rooms having upgrades – this is your time to feel your sexiest, so spend some time looking at all the different themes and amenities each room has to offer. The condo rooms are very inexpensive, so book yours today! Don't worry, if you are not ready for the overnight experience and just want to check us out for the day and/or night – passes are available online or at the door.
About the Lifestyle: Ask many couples in the swinging lifestyle how they feel about it, and most will tell you that it enhanced their personal sex life as a couple. They will also tell you that this only works if you already have open communication, a good sex life, and a solid relationship to begin with. There should never be any pressure to do anything that anyone is not comfortable with. Be sure to come without expectation, leave with great memories. Things should always be free and easy with all people involved. Always remember, no means no.
Secrets Events are always private and are never open to the public. All members are verified in person – there are no guessing games! Be sure to bring your current photo idea with you. We embrace everyone that walks into Secrets – whether you are mild or wild – new or seasoned, be respectful to all members and staff. What happens at Secrets, stays at Secrets.